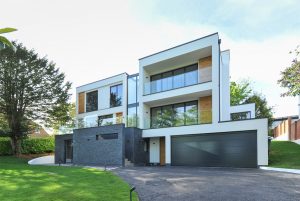 We were honoured to be entered into the 2015 Guildford Design Awards for our recent residential new build project, Trelawne in Guildford, Surrey.
The biennial awards celebrate well designed, innovative architectural and environmental projects that contribute to the aesthetic quality and the sustainability of Guildford.
At an award ceremony held at The Guildhall, we were joined by the Mayor of Guildford, Councillor Nikki Nelson-Smith, the sponsors Linden Homes and an independent panel of judges.
Trelawne was a project borne from a brief by our clients aspiring to demolish an existing 1960's chalet on the plot and create a large, contemporary home that would maximise the stunning views out to the Surrey Downs from the front of the property.
Our submitted designs were approved for a 4,200 sq ft new build home with internal space configured to provide five bedrooms, four bathrooms, open living space and a gym over three generously sized storeys.
Set in a elevated position, in one of Guildford's most prestigious roads, our contemporary design used full height windows and private balconies to take advantage of the setting and distant views.
Awarded a New Build finalist certificate, Judges' commented: An exciting modern design, exploiting the stunning views afforded by its location and creating generous, attractive and flexible living space.
Our creative team of architects continue to apply their skill and vision to contemporary new build design on residential projects across London, Surrey and South east. Contact us to find out more.